Description
Fantasia Fans Sigma ceiling fan with light is one of our most popular models and come completes with integral halogen fan light and a remote control system to operate the 3 speeds of the fan and control/dim the light. Like all Fantasia ceiling fans, the Sigma has a 10 year manufacturers warranty.
Product Specification
Room Size Recommendation:
Max 196 sq ft / 18 sq m
Mounting Style:
Drop Mount
Drop Rod Included:
6"/15cm
Operation:
Remote Control
Read Reviews
Write Review
Very quiet and effective quick delivery

Posted by Jim on 19th Feb 2021

I had my installation done by a professional installation electrician though it was quite straight forward. The only issue (as previous reviews have noted) is the size and fitting of the remote control receiver which seems rather big in these days of micro electronics and awkward to fit. One word of warning, the range of the remote control is huge, we have the same model of fan in our bedroom which is the opposite side of the house compared to our new one in the kitchen and either remote activates both fans at once. This can be solved by changing the dip switch settings but I cant face the hassle of removing the receiver at the moment so am experimenting with other modes of operation.

Sigma 42" ceiling fan with light and remote control.

Posted by John Dagnall on 28th Oct 2020

This Sigma fan was purchased for use in our conservatory.
Ordering the fan was easy and it was delivered within 12 hours believe it or not so all credit to the Ceiling Fan Company for that.
It has a very nice contemporary look and seems to be of good quality.
It is much heavier than the fan it replaced which would indicate a quality motor.
The fan runs pretty much silently, the light is nice and bright (although dimmable if required) and the remote control function is instant.
Installation was quite straightforward, everything went together easily however, the wiring is not straightforward as connections are hampered by the position of the remote control transmitter and tucking everything back into the the canopy dish is tricky.
A clearer wiring diagram would be useful plus a bigger canopy dish.
It does get very hot under the eaves of our conservatory in the Summer, so the real test for the fan's durability will come next year.
Overall though I am very pleased with the fan and hope that it will last a good few years, all indications being positive so far.

Ceiling Fan Comoany - Simply the Best

Posted by Alison on 26th Jul 2018

I have had two Fantasia Fans purchased from different companies - both needed renewing at the same time which is expensive and I was never really happy with either of my lights.

The Ceiling Fan Company have delivered two perfect lights at very competitive prices. A couple of the blades which were perfectly wrapped were not quite perfect - nothing to do with TCFC - were immediately sent out to me by lovely Richard. I cannot recommend them enough.

Stylish and quiet

Posted by Janet on 26th Aug 2016

Highly delighted with this fan. It is stylish, modern sleek lines and amazingly quiet. We are really pleased with this product and highly recommend it.

Bedroom fan.

Posted by Susan Tyrrell. on 18th Mar 2016

Fabulous sparkling white ceiling fan, practically silent running on low speed. Slight hum on higher speed. In our spare bedroom that gets quite hot if a good summer. As our grandchildren stay over, is ideal on the low setting, soft breeze and silent. Also having the dimmer on these fans is great so you can see if you have to go into them at night.
Have remote control Fantasia fans in all our rooms so would recommend any of them. Does what it says on the box.
Service and delivery first class.

Fan for conservatory

Posted by Unknown on 26th Oct 2015

Spent hours looking for right fan for newly built conservatory , very pleased with choice I made . Sigma fan is very qiuet , very solid and looks great. Would highly recommend it.

Good quality product

Posted by Alan Alexander on 29th May 2015

Good quality product, well made and finished. Very easy to use and set up the remote control. Highly recommended.

Brilliant. Exactly what we were looking for

Posted by Trevor Gardner on 5th Dec 2014

Really pleased with our new fan. It is very quiet, just works, easy to fit, very solid and looks classy
Delivery Information
Delivery is FREE on all orders to a UK mainland address

Other Delivery Options
Saturday delivery (UK mainland) £18
Delivery to a non-UK mainland address
Please call us on 0808 168 4535 or email sales@theceilingfancompany.co.uk for delivery charges. UK Mainland excludes the Channel Islands, Northern Ireland, Isle of Man and the following postcodes: AB36-38, AB55-56, FK17-99, G83, HS0-9, IV1-63, KA27-28, KW1-99, PA20-99, PH15-99, ZE0-99.
Installation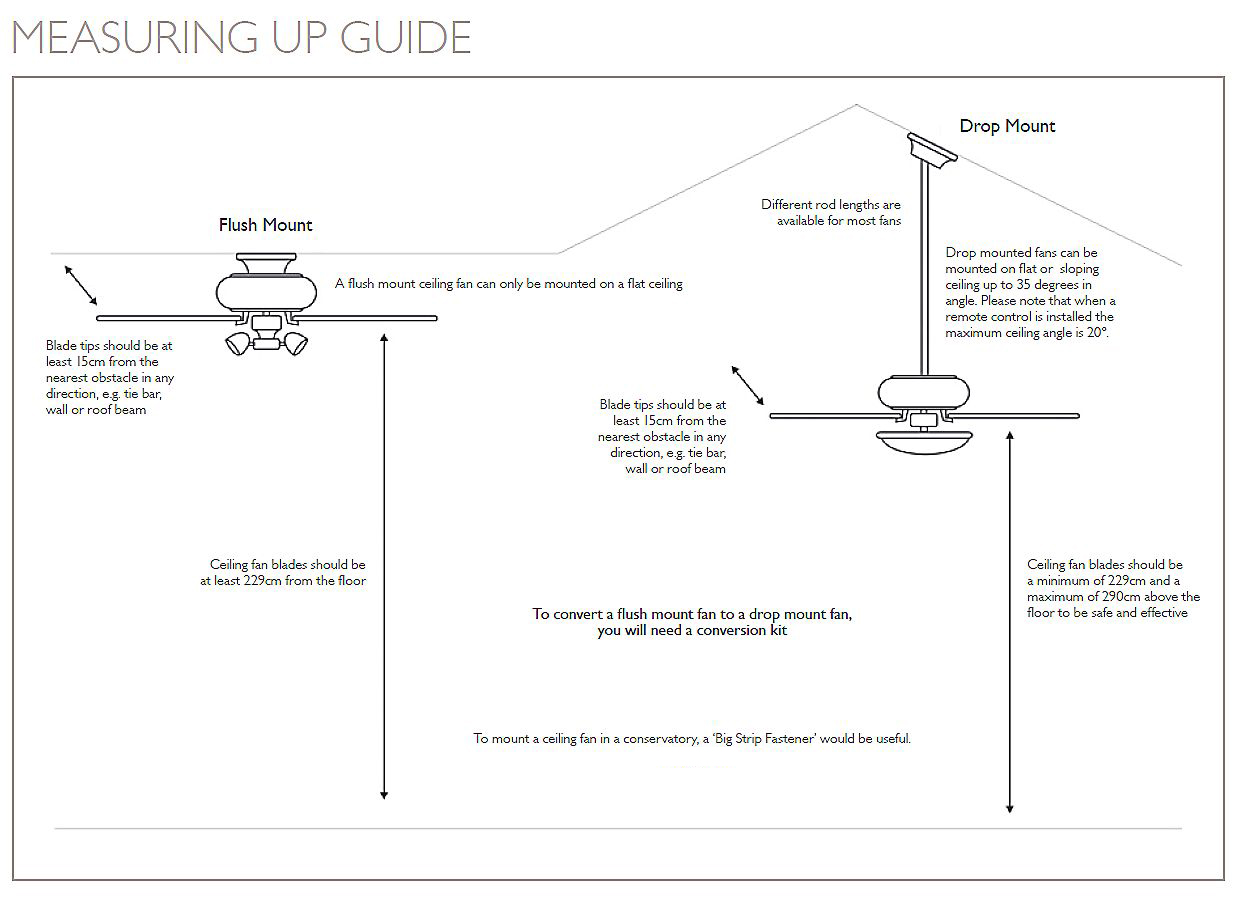 Your fan comes with all the fixings required as well as an easy-to-follow installation guide.
Installing a fan is similar to installing a light fitting. Simply wire into your existing lighting circuit (two core and earth). Connect the coloured wires of the fan to the matching coloured wires of your household electricity supply, following the coloured diagrams supplied in your guide.
For peace of mind, many people prefer to have their ceiling fans installed by a qualified electrician. Should you decide to do this, then rest assured, it should be a simple and quick job for them to do. For technical advice please call 08081684535 or email info@theceilingfancompany.co.uk.
NOTE: Your ceiling should be at least 7ft 6" (2.3m) from the floor and the tips of the fan need to be at least 8" (20cm) away from any objects such as a beam or sloping walls. Please check your ceiling is solidly constructed (eg: standard joists and plaster, not plasterboard) as the fixing point needs to be capable of supporting ten times the weight of the fan due to the thrust generated by the movement of the blades.
Everything you need to install the fan is included in the box. However, if you have a sloping ceiling you may need to purchase an additional mounting. If you have a very high ceiling you or a conservatory, you may need to purchase a drop rod and conversion kit.