Description
Fantasia's remote control system operates the 3 fan speeds and the on/off/dim function of the light, giving you complete control of your ceiling fan from the comfort of your armchair. It also features a timer function for 2hr, 4hr, 8hr auto-switch off. This remote controller comes complete with a wall mountable holder and CR2032 battery. Standard twin and earth wiring (live, neutral and earth) is required. It can also be used to control the fan speeds only on models without a light kit. 2 year manufacturers warranty. The receiver unit of the remote control fits into fan bracket at ceiling level and is hidden by the rose canopy. A remote controller can be fitted at a later date to an existing ceiling fan that is already installed.
Note: one remote control is required per fan
Read Reviews
Write Review
Fantasia Remote Control

Posted by Jon on 16th Nov 2017

Brought as a replacement for the Fantasia Remote Control receiver that stopped working in our Fantasia ceiling fan.
Receiver was easy to fit in the fan, and the remote control was already set up. Everything worked first time.
We were impressed with The Ceiling Fan Company. We ordered the remote controller and it arrived two days later. Thanks!

Excellent Remote

Posted by Dorothy Donald on 24th Jul 2017

The remote control is perfect. We moved house recently and left our two fans and remotes for the new people. We had to have a fan in our new bedroom and of course a remote to go with it.

Easy to fit and use.

Posted by Tony (Leeds) on 20th Jun 2017

I have 3 fans all installed with a remote control and receiver.
One receiver stopped working after 4 years, so I had to buy the pair instead of just buying the receiver .. just saying.
When buying a fan with the option of R/C the receiver fits into a space in the bracket holding the fan.Therefore its easier to fit the wires. One of my fans is older (the one I needed a new receiver for) so the receiver and wires have to be got into the ceiling cover. However its no great problem.


Fantasia Remote

Posted by Henderson on 28th Aug 2015

Quick service and delivery. Easy to fit and works no prob.
Remote could be more robust

Fantasia remote

Posted by Allan on 4th Jul 2015

Bought this as a replacement for one fitted to a Polar Fan. Fitted OK inside existing fan and set up simple and worked first time. Simple one button press for fan speed, but no display as the instruction read. Polar fan remote lasted 7 years, hopefully this will last longer.

Not so fantasia remote

Posted by Chris Bushell on 29th Jun 2015

Our Fantasia fans are several years old, still working as good as ever. The remotes we bought with them, not so good. One packed up after about a year, the other one fell to bits and is held together with tape and works when it feels like.

The new ones we ordered are very smart looking, the big problem was fitting them in. First problem was the remote piece that fits in the ceiling. Slightly large and there was no place in our ceiling piec
e to feed the aerial piece through, so had to drill a hole.

Then it was a problem trying to keep the remote piece in place while the very long wires were all coiled up and put in the ceiling piece whilst trying to replace the cover. Took many hours, tape to hold the remote in place and getting everything in the right place so that it could be put together.

I have only done one so far, plucking up the energy and courage to attempt the other one. Now it is up and running, it's great.

fantasia remote

Posted by Unknown on 25th May 2015

Only just installed and appears to be working perfectly.

fast service

Posted by san on 12th May 2015

so pleased with the service I received came fast.fan now fixed
Delivery Information
Delivery is FREE on all orders to a UK mainland address

Other Delivery Options
Saturday delivery (UK mainland) £18
Delivery to a non-UK mainland address
Please call us on 0808 168 4535 or email sales@theceilingfancompany.co.uk for delivery charges. UK Mainland excludes the Channel Islands, Northern Ireland, Isle of Man and the following postcodes: AB36-38, AB55-56, FK17-99, G83, HS0-9, IV1-63, KA27-28, KW1-99, PA20-99, PH15-99, ZE0-99.
Installation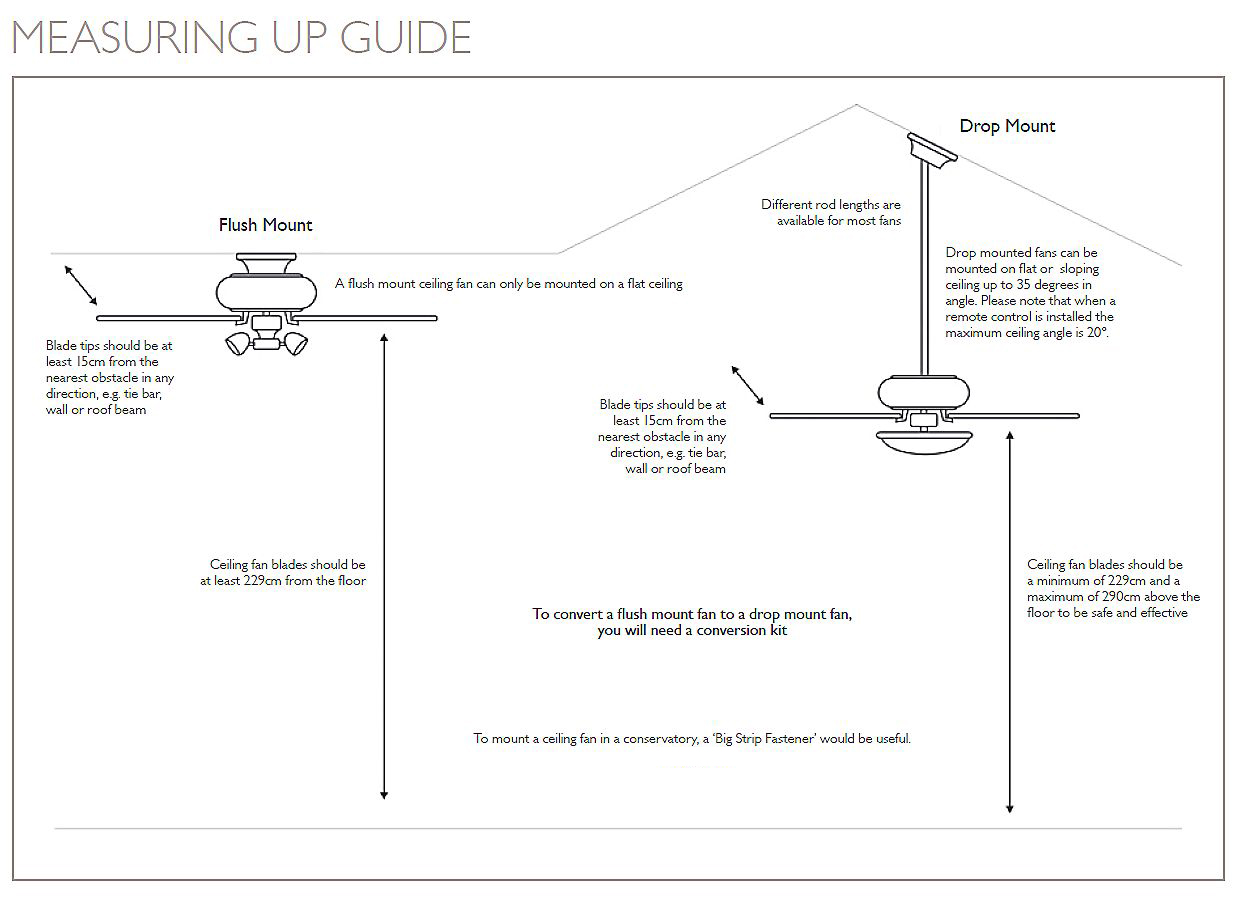 Your fan comes with all the fixings required as well as an easy-to-follow installation guide.
Installing a fan is similar to installing a light fitting. Simply wire into your existing lighting circuit (two core and earth). Connect the coloured wires of the fan to the matching coloured wires of your household electricity supply, following the coloured diagrams supplied in your guide.
For peace of mind, many people prefer to have their ceiling fans installed by a qualified electrician. Should you decide to do this, then rest assured, it should be a simple and quick job for them to do. For technical advice please call 08081684535 or email info@theceilingfancompany.co.uk.
NOTE: Your ceiling should be at least 7ft 6" (2.3m) from the floor and the tips of the fan need to be at least 8" (20cm) away from any objects such as a beam or sloping walls. Please check your ceiling is solidly constructed (eg: standard joists and plaster, not plasterboard) as the fixing point needs to be capable of supporting ten times the weight of the fan due to the thrust generated by the movement of the blades.
Everything you need to install the fan is included in the box. However, if you have a sloping ceiling you may need to purchase an additional mounting. If you have a very high ceiling you or a conservatory, you may need to purchase a drop rod and conversion kit.