Description
Fantasia Fans Mayfair ceiling fan with lights is available in 7 finishes to suit any interior and is one of our best-selling models. The Fantasia Mayfair fan can be lowered with a drop rod but a conversion kit will be required. Like all Fantasia ceiling fans, the Mayfair has a 10 year manufacturers warranty. The White Mayfair Combi comes complete with an Amorie haolgen light (3 x 60w G9 bulbs included).
You can add a Remote Control to this fan.
Product Specification
Room Size Recommendation:
Max 196 sq ft / 18 sq m
Mounting Style:
Flush Mount
Drop Rod Compatible:
Conversion Kit Required
Operation:
Manual Pull Cord (remote upgrade option)
Read Reviews
Write Review
Attractive, stylish and very reasonably priced

Posted by Suzanne on 28th Apr 2021

This is the second one of these ceiling fans that I purchased - one all white the other white and silver. They are very effective, not at all noisy and easy to control
They are easy to fit (if you're DIY minded) but do required to be fitted to a strong beam as they are a lot heavier that a regular light with shade
Exceptionally speedy delivery
Would highly recommend

Lived up to expectations

Posted by Keith Ryan on 10th Jul 2020

Bought the fan for my son and his partner who were complaining about their bedroom being stuffy. They found it easy to install and are very pleased with how quiet and efficient if i, even at high speed. They now sleep much better.

Cool nights

Posted by David Phillips on 21st Aug 2019

This ceiling fan is providing a pleasant down draft on a hot night. It is much quieter than a portable fan, particularly on medium and low speeds which are extremely quiet The remote control allows for speed variation as required without getting out of bed.
The receiver for the remote control should not be as tight and as difficult to fit, hence 4 stars instead of 5.

Superb Fan

Posted by Unknown on 30th Apr 2019

I always buy Fantasia fans, well made with silent operation at slow speed. Remote control well worth the extra money.

Great fan and light combo that can be used on a low ceiling

Posted by Ian Annesley on 19th Apr 2016

Our bedroom can get uncomfortably hot in the summer, so when I recently re-decorated I looked for ceiling fan that could be used on a ceiling that is only 2.3m high. This fan fits the bill and looks very smart. The fan motor is almost silent and even at full speed the blade noise is less than a desk fan. I ordered the remote control option which I thoroughly recommend. I fitted the fan myself which was straight forward except for the following issues.
The mounting plate must be screwed into something solid like a joist, as this would have meant repositioning the light cable outlet I fitted some boards between the joists to fix into.
The wireless receiver has to be located inside the upper housing and I found it very fiddly trying get the housing located onto the mounting plate, which I only managed to do with some help. This issue is the only reason I didn't give 5 stars.

wonderful quiet nice looking fan

Posted by Angela on 22nd Jun 2015


Very please with this purchase.
Aesthetically, it looks very nice in my conservatory - & purchased with a conversion kit & longer ceiling rod it provides 'closer cooling' with a 'quiet' mechanism.
My last fan was pretty noisy compared to this.
Definitely worth the money. An excellent buy.

Only had it in place 3 days!

Posted by Unknown on 26th Jun 2014

Astonished at the speedy delivery! Next day! Of course, as soon as we had it in place the weather went cooler, but we have tested it. We bought a remote control with it, and glad we did. It makes it so much easier to operate. No leaping out of bed as we had to with our previous fan. It gives us a lovely cool breeze and is silent. Silent is very important as I am a light sleeper. Also, we love the dimmer on the lights. Highly recommend!
Delivery Information
Delivery is FREE on all orders to a UK mainland address

Other Delivery Options
Saturday delivery (UK mainland) £18
Delivery to a non-UK mainland address
Please call us on 0808 168 4535 or email sales@theceilingfancompany.co.uk for delivery charges. UK Mainland excludes the Channel Islands, Northern Ireland, Isle of Man and the following postcodes: AB36-38, AB55-56, FK17-99, G83, HS0-9, IV1-63, KA27-28, KW1-99, PA20-99, PH15-99, ZE0-99.
Installation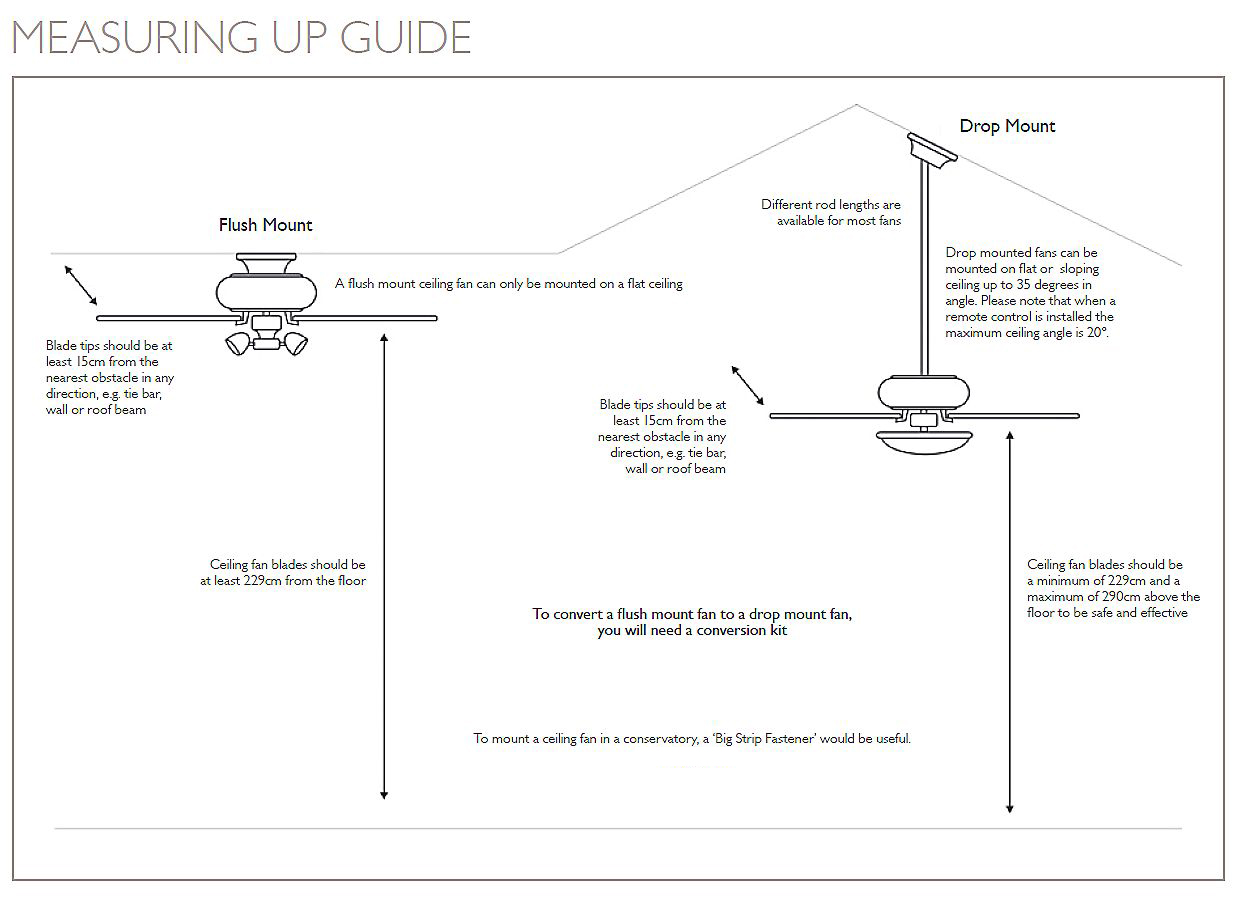 Your fan comes with all the fixings required as well as an easy-to-follow installation guide.
Installing a fan is similar to installing a light fitting. Simply wire into your existing lighting circuit (two core and earth). Connect the coloured wires of the fan to the matching coloured wires of your household electricity supply, following the coloured diagrams supplied in your guide.
For peace of mind, many people prefer to have their ceiling fans installed by a qualified electrician. Should you decide to do this, then rest assured, it should be a simple and quick job for them to do. For technical advice please call 08081684535 or email info@theceilingfancompany.co.uk.
NOTE: Your ceiling should be at least 7ft 6" (2.3m) from the floor and the tips of the fan need to be at least 8" (20cm) away from any objects such as a beam or sloping walls. Please check your ceiling is solidly constructed (eg: standard joists and plaster, not plasterboard) as the fixing point needs to be capable of supporting ten times the weight of the fan due to the thrust generated by the movement of the blades.
Everything you need to install the fan is included in the box. However, if you have a sloping ceiling you may need to purchase an additional mounting. If you have a very high ceiling you or a conservatory, you may need to purchase a drop rod and conversion kit.