Mayfair Stainless Steel with Light
Description
Fantasia Fans Mayfair ceiling fan with lights is available in 7 finishes to suit any interior and is one of our best-selling models. The Fantasia Mayfair fan can be lowered with a drop rod but a conversion kit will be required. Like all Fantasia ceiling fans, the Mayfair has a 10 year manufacturers warranty. The Steel Mayfair Combi comes complete with an Amories haolgen light (3 x 60w G9 bulbs included).
You can add a Remote Control to this fan.
Product Specification
Room Size Recommendation:
Max 196 sq ft / 18 sq m
Mounting Style:
Flush Mount
Drop Rod Compatible:
Conversion Kit Required
Operation:
Manual Pull Cord (remote upgrade option)
Read Reviews
Write Review
My second unit

Posted by Baker on 5th Sep 2018

This is my second fan unit of this make and type. I have used the first one for over 5 years with no problems. I expect the same with this new fan.

great product

Posted by dave on 11th Aug 2018

I purchased a fantasia ceiling fan and light in my previous house and was extremely happy, I have now purchased two more for new home. I found easy to install and set up, clear instructions. very quiet operation and did not have to balance any as did not vibrate at all on high speed. would recommend this product.

FAN..TASTIC

Posted by PAUL on 11th Aug 2017

WE HAVE BOUGHT AND USED FOR FANTASIA LIGHTS FOR OVER 20 YEARS AND HAVE ALMOST BEEN WELL MADE ,GOOD DESIGN AND MOST OF ALL RELIABLE

Well made quiet ceiling fan. Good fitting instructions but check the terminal block

Posted by Peter Debenham on 7th Oct 2016

This is our second Mayfair fan - the first is still going well after a decade. They are quiet (not quite silent) and well made. The stainless steel complements a newly redecorated child's room. Compared to two non-Fantasia fans I also have these Mayfair fans are much better made.

Fitting instructions are good. There is one potential problem however. To fit this fan with a modern lighting ring you need to accommodate 13 wires including 5 earths. The supplied screw terminal block is totally inadequate for the task - its easily resolved by putting in an alternative terminal block (from the outgoing ceiling lamp) but Fantasia need to remember that retrofitted fans are not on isolated spurs. It was an unexpected piece of cost cutting.

fantastic "fantasia"

Posted by doreen Kempster on 27th Jul 2015

love my fan this is the second one I have purchased ,excellent buy my advice the only fan to buy is Fantasia ,,,

absolutely marvelous

Posted by doreen kempster on 10th Jul 2015

love my fan so much it is good looking and does the job its there for magnificently if you want fan look no further than fantastic "Fantasia" its worth every penny I paid for and more in my fitters words "buy cheap buy twice" says it all thanks

Fantasia Mayfair Combi

Posted by Laurence Parker on 4th Jul 2014

We are very pleased with the quality of this product and the ease of assembly with remote control
Delivery Information
Delivery is FREE on all orders to a UK mainland address

Other Delivery Options
Saturday delivery (UK mainland) £18
Delivery to a non-UK mainland address
Please call us on 0808 168 4535 or email sales@theceilingfancompany.co.uk for delivery charges. UK Mainland excludes the Channel Islands, Northern Ireland, Isle of Man and the following postcodes: AB36-38, AB55-56, FK17-99, G83, HS0-9, IV1-63, KA27-28, KW1-99, PA20-99, PH15-99, ZE0-99.
Installation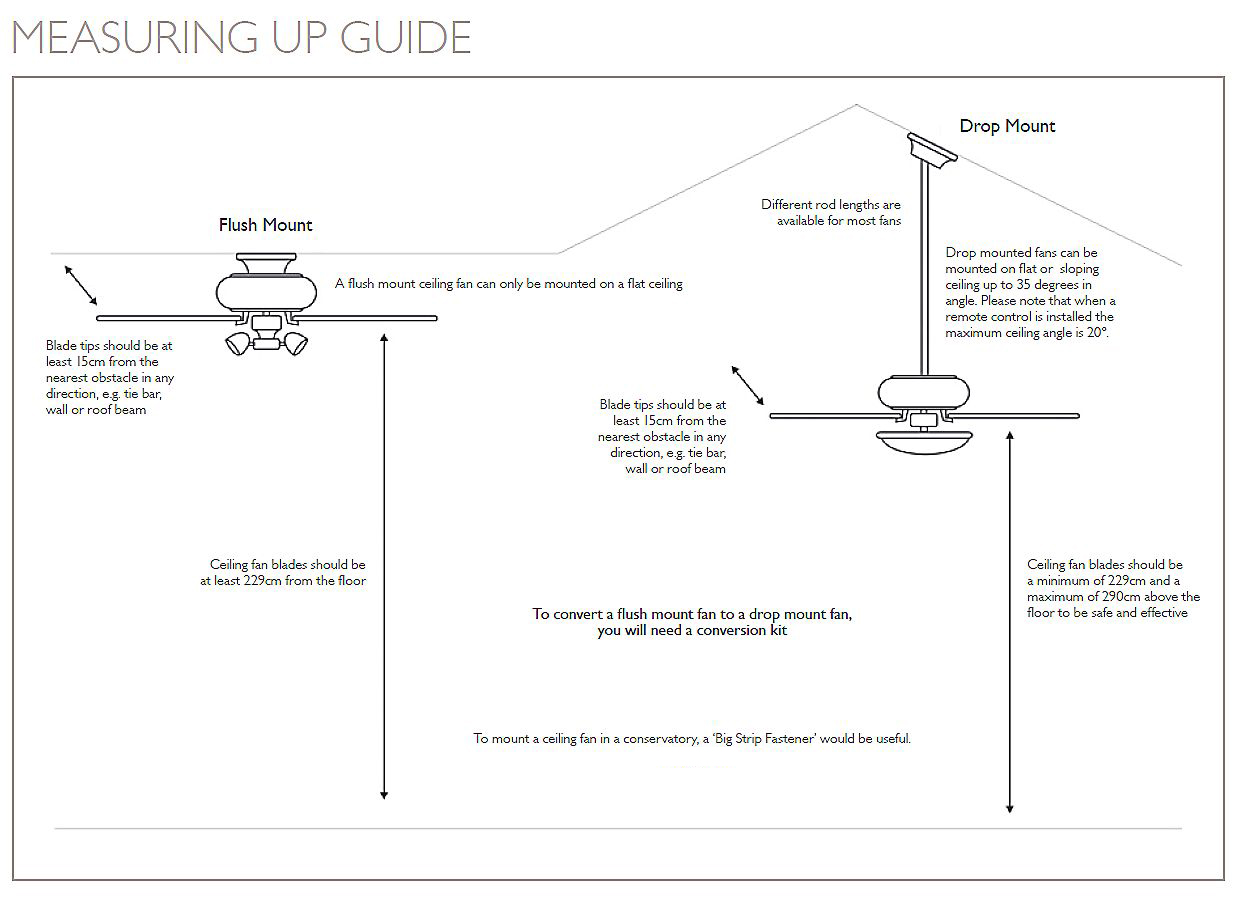 Your fan comes with all the fixings required as well as an easy-to-follow installation guide.
Installing a fan is similar to installing a light fitting. Simply wire into your existing lighting circuit (two core and earth). Connect the coloured wires of the fan to the matching coloured wires of your household electricity supply, following the coloured diagrams supplied in your guide.
For peace of mind, many people prefer to have their ceiling fans installed by a qualified electrician. Should you decide to do this, then rest assured, it should be a simple and quick job for them to do. For technical advice please call 08081684535 or email info@theceilingfancompany.co.uk.
NOTE: Your ceiling should be at least 7ft 6" (2.3m) from the floor and the tips of the fan need to be at least 8" (20cm) away from any objects such as a beam or sloping walls. Please check your ceiling is solidly constructed (eg: standard joists and plaster, not plasterboard) as the fixing point needs to be capable of supporting ten times the weight of the fan due to the thrust generated by the movement of the blades.
Everything you need to install the fan is included in the box. However, if you have a sloping ceiling you may need to purchase an additional mounting. If you have a very high ceiling you or a conservatory, you may need to purchase a drop rod and conversion kit.