Capri Gloss White with Light
Description
Fantasia Fans modern compact Capri ceiling fan with lights is perfect for smaller rooms and comes complete with a Fantasia fan light kit. This ceiling fan can be lowered with a drop rod but a conversion kit will be required. Like all Fantasia ceiling fans, the Capri has a 10 year manufacturers warranty. Also available without a light.
Shown here in White.
You can add a Remote Control to this fan.
Product Specification
Room Size Recommendation:
Max 100 sq ft / 9 sq m
Mounting Style:
Flush Mount
Drop Rod Compatible:
Conversion Kit Required
Operation:
Manual Pull Cord (remote upgrade option)
Read Reviews
Write Review
Showing reviews 1-10 of 11 | Next
Ceiling Fan

Posted by Georgina Casson on 12th Aug 2021

Excellent, so silent and just what we wanted

Highly recommended

Excellent quality and brilliant service.

Posted by Clive Voisey on 5th Oct 2020

After many years service our old fan started making a nasty grinding sound and needed to be replaced. after a lot of searching we decided on the Capri Gloss white as it resembled our old set up of fan combined with three lights. The reviews on it were very favorable and we made a purchase at the end of last March. Delivery was swift and the product was well packaged. Once connected up it was apparent immediately that the comments we had read about it being 'whisper quiet' were not exaggerated. Far superior to the one we had lived with for all those years and kept us comfortably cooled during those hot sultry nights during the period of lockdown. Unfortunately, just over a week ago, having switched on the fan there was a loud pop and the upstairs lights went out indicating a the trip switch had triggered in the electric distribution box. I restored the switch and the lights came back on upstairs, including all three on our fan unit. However, the fan had stopped working. The following morning I contacted the Ceiling Fan Company, explained what had happened and with no hesitation was told that a new, tested motor would be sent out to me and once connected and I was satisfied a courier would be sent to collect my broken one. I had contacted the company at around 10:30 on a Friday morning and by 2:20 Saturday afternoon, my replacement motor had arrived. It has been connected up, works perfectly and the broken unit has been collected and returned with no charge whatsoever. Not only does this company sell quality products which fulfil their description, their aftersales service is second to none. Brilliant!

Ceiling fan

Posted by Unknown on 20th Aug 2020

We had one at our old house and unfortunately we didn't bring it with, it was one of our best purchases, we've really missed it this hot weather. No more sleepless nights now we have bought another exactly the same

Capri ceiling fan with lights

Posted by Lesley on 10th Apr 2019

We bought this fan as we have had 2 before and we are very pleased with it. The one we replaced had lasted 25 years.
So very happy and I would recommend this product.

very effective and quiet

Posted by Marie Gressman on 3rd Nov 2018

Delighted with this; within a few seconds it cools the bedroom and it can be left on all night as it is hardly audible. Ordering a second one for conservatory. Pleased I got the remote.

Fan tastic

Posted by Unknown on 7th Aug 2018

I used my fan for the first time last night. It was quiet and I was able to get the first good nights sleep in ages.

Would fully recommend.

Powerful and quiet

Posted by Bill C on 15th Aug 2016

Purchased for bedroom use as room is south facing. Delighted with performance in cooling mode. Even on 'full' motor is whisper quiet. Temperature in room forced down in very short space of time.Installation of remote unit very 'testing' according to electrician.

Now purchased second unit for another bedroom. Very, very pleased.

Very pleased with his company

Posted by Victoria Marshall on 14th Aug 2015

I received my fan/light fitting very well wrapped. Even so, one of the glass lamp shades was broken. I contacted the company and they replaced the defective shade straightaway and I received this amazingly quickly. This shade arrived intact and had been doubly packed to ensure no breakages this time. Well done to this company for excellent customer service, great product and speedy delivery. The fan is amazing in this recent hot weather and very simple to use both manually and via the remote control.

Beautiful and very quiet fan/light

Posted by R Cuckson on 9th Apr 2015

The product looks very good in the house and is really quiet. I could eventually get some sleep after suffering hot flushes for weeks. You cannot hear the fan at low speed. However, beware of the installation costs. And also, do look at the fittings of the glass of the lights. They protrude. You may want to choose another Fantasia design. The delivery was very prompt, packaging good, and the ceiling fan company customer service was extremely helpful. Thanks a lot.

Could not Live Without It!

Posted by Joan Mawdsley on 26th Jul 2013

We bought our first Capri light and ceiling fan two years ago and have not looked back since.

It has been a godsend during the hot weather over the past two years and we have it on all night many nights in the summer.

The remote is excellent and the fan is completely silent and does the job of airconditioning (without its drawbacks of its cost and drying up the atmosphere).

We have just purchased our second unit and thinking about more for other rooms in the house.


Showing reviews 1-10 of 11 | Next
Delivery Information
Delivery is FREE on all orders to a UK mainland address

Other Delivery Options
Saturday delivery (UK mainland) £18
Delivery to a non-UK mainland address
Please call us on 0808 168 4535 or email sales@theceilingfancompany.co.uk for delivery charges. UK Mainland excludes the Channel Islands, Northern Ireland, Isle of Man and the following postcodes: AB36-38, AB55-56, FK17-99, G83, HS0-9, IV1-63, KA27-28, KW1-99, PA20-99, PH15-99, ZE0-99.
Installation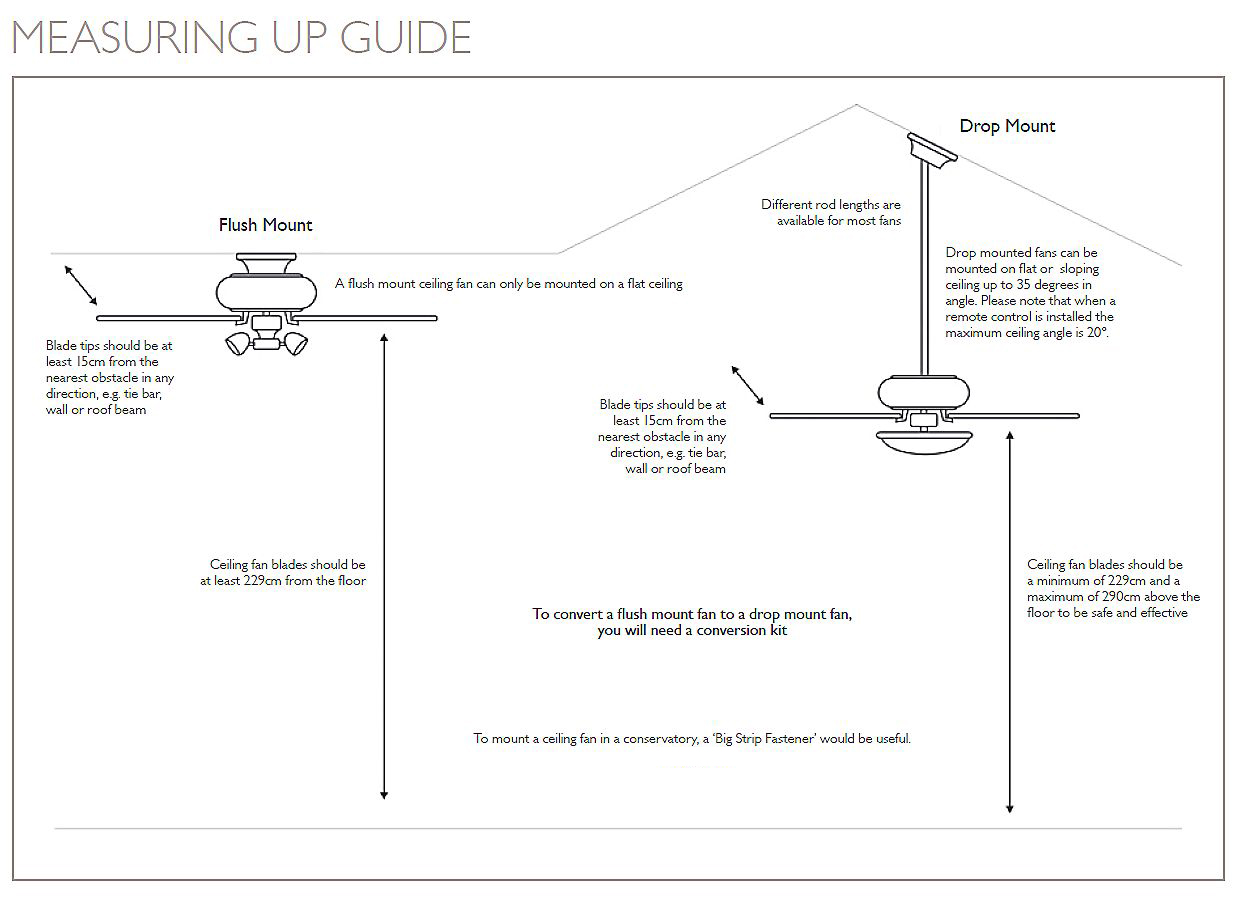 Your fan comes with all the fixings required as well as an easy-to-follow installation guide.
Installing a fan is similar to installing a light fitting. Simply wire into your existing lighting circuit (two core and earth). Connect the coloured wires of the fan to the matching coloured wires of your household electricity supply, following the coloured diagrams supplied in your guide.
For peace of mind, many people prefer to have their ceiling fans installed by a qualified electrician. Should you decide to do this, then rest assured, it should be a simple and quick job for them to do. For technical advice please call 08081684535 or email info@theceilingfancompany.co.uk.
NOTE: Your ceiling should be at least 7ft 6" (2.3m) from the floor and the tips of the fan need to be at least 8" (20cm) away from any objects such as a beam or sloping walls. Please check your ceiling is solidly constructed (eg: standard joists and plaster, not plasterboard) as the fixing point needs to be capable of supporting ten times the weight of the fan due to the thrust generated by the movement of the blades.
Everything you need to install the fan is included in the box. However, if you have a sloping ceiling you may need to purchase an additional mounting. If you have a very high ceiling you or a conservatory, you may need to purchase a drop rod and conversion kit.